Golf in B.C.'s mountain playground
Golfing opportunities abound near Koocanusa Village
Looking for stellar golf courses to keep you busy while not on Lake Koocanusa? Located in the heart of British Columbia's mountain playground, Koocanusa Village not only serves up serious water sports, but is close to a plethora of top notch golf courses in the region.

Cranbrook and Kimberley, B.C.
All located within 24 minutes of one another, each of these unique 18-hole golf courses are well established, award-winning golf destinations. Offering inspiring, scenic views of mountain peaks, river valleys and forested hillsides, these courses are sure to impress.
Wildstone

The Wildstone Golf Course is the first Black Knight Design by Gary Player Design in Canada. Player has described the setting as "the most beautiful site that I've ever had the privilege to design a golf course on." Located on the outskirts of Cranbrook, the Wildstone Golf Course measures over 7,100 yards and exposes stunning postcard views of the Rocky Mountains from start to finish.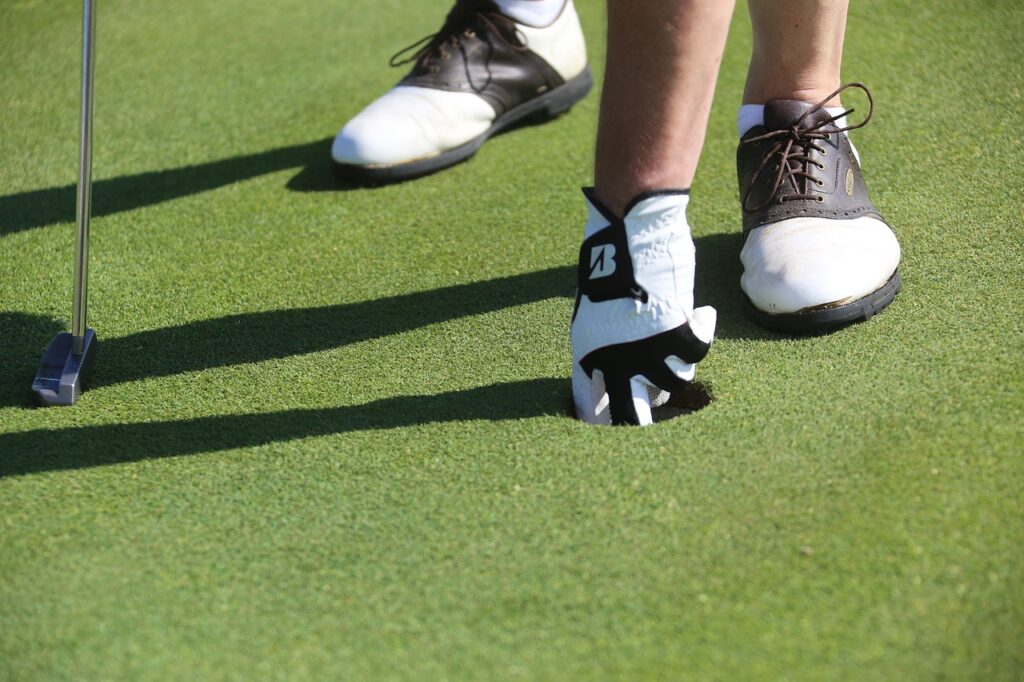 Trickle Creek Golf Resort
Trickle Creek is an unforgettable round of golf and one of the few Canadian courses to be rated 4.5 stars by Golf Digest. Carefully carved out of the forest, high on the slopes of North Star Mountain, the course crosses creeks, ravines, and natural ponds while showcasing unforgettable views of the Rocky Mountains and valley.
St. Eugene
Settings for golf courses don't get much better than this. Tucked along the banks of the St. Mary River at the base of the Rocky Mountains, St. Eugene offers some of the most spectacular scenery you are likely to see on a golf course.
Bootleg Gap Golf
This Les Furber-designed course offers great, versatile experiences. It features an 18-hole championship course and an additional 9 for those more inclined to a short game. Situated on the tranquil St. Mary River valley, Bootleg Gap speaks volumes to the open expanse and magnificence of the Rocky Mountain Trench.
Kimberley Golf Club
Since 1924, the Kimberley Golf Club has been a prominent name in British Columbia mountain golf. The timeless course winds through Ponderosa pine forests, perched high above the St. Mary river. Kimberley Golf Club presents a variety of birdie opportunities in the opening holes, and numerous scenarios that require shot-making and patience.
Shadow Mountain
A diverse golfing experience, Shadow Mountain introduces 18 of the most breathtaking holes imaginable. The golfer begins their journey playing the opening par five through local pines, traversing across rolling mountainous terrain and finishing with arguably the four most visually stunning holes in Canada. Standing 125 feet above the fairway on two of the four finishing holes will leave you breathless and exhilarated all at the same time.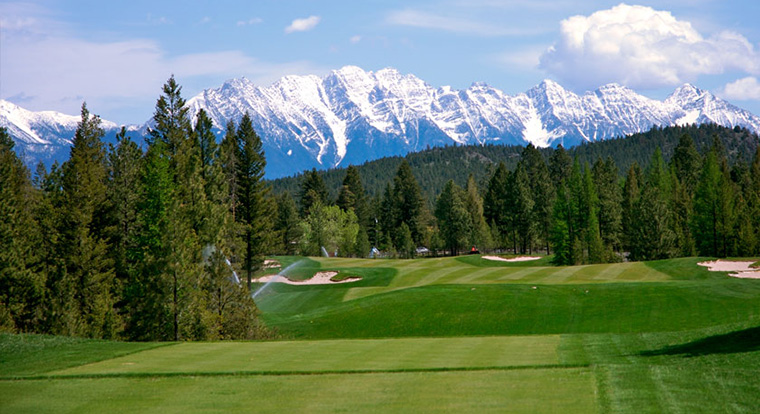 Cranbrook Golf Club
With a mature parkland setting the course is enjoyable from the opening drive to the final putt. Every hole is framed by tall evergreens accentuating the natural beauty of the terrain. Throw in the classic, easily walkable route, and you've got one of the sweetest golf experiences in the Kootenay Rockies. But Cranbrook is not just a pretty face; this is a golf course with plenty of strength and character.
Fernie, B.C.
Fernie Golf Club
Surrounded by rugged mountain peaks and wrapped in a lush forest, the Fernie Golf Club is a must-visit course on any keen or beginner golfer's summer tour. This 18-hole championship course emphasizes playability. 6,556 yards of immaculate fairways lie beneath a beautiful and spacious clubhouse, where players can enjoy a delicious meal and fabulous views of the valley. Golfers can even catch a glimpse of the legendary Fernie Ghostrider on Mount Hosmer at late afternoon or mid-evening. Luxurious greens, moulding silica sand bunkers and varied terrain are well-suited for beginners as well as the low handicapper.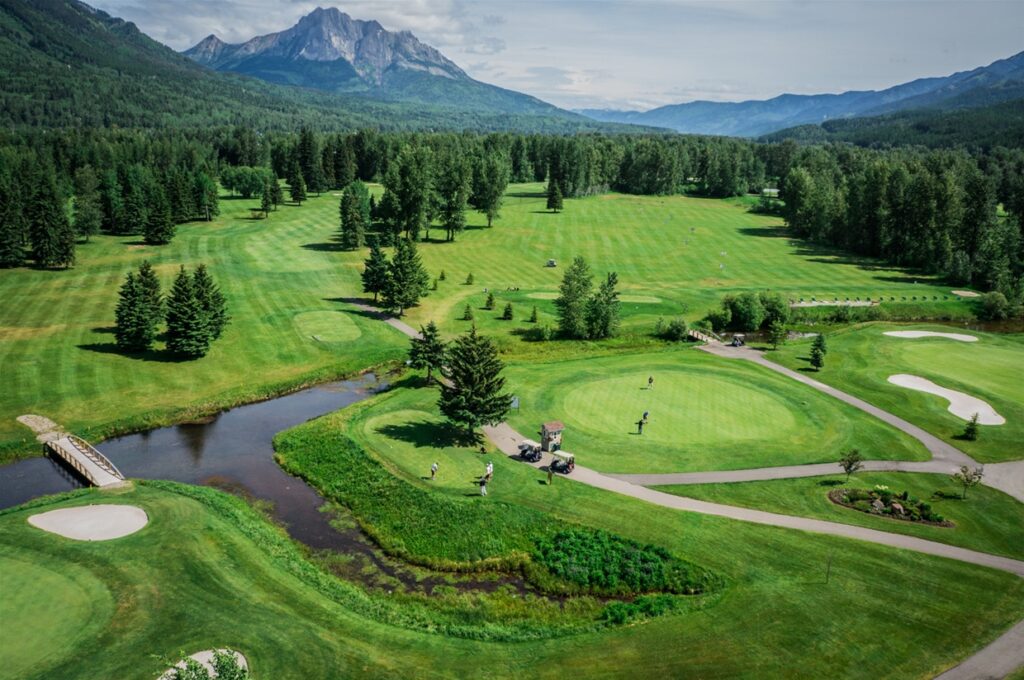 Jaffray, B.C.
Will-o-Bend is an executive par 4 public golf course at the foot of the Rockies in Jaffray, British Columbia. The golf course has rolling hills and challenging water hazards on six of the nine holes.

More Info
Just across the border – plenty of golf courses to choose from in Montana
Wilderness Club Resort
The Wilderness Club Resort is one of Montana's best kept secrets just seven miles south of the Canadian border with the centerpiece Sir Nick Faldo designed championship golf course.
Indian Springs Ranch
Just five minutes south of the Roosville border crossing on US Hwy 93, you'll find Indian Springs Ranch. This golf course has been carefully designed to take full advantage of the unique landscape from rolling hills to dramatic mountain views, every hole offers its own distinctive perspective.
First opened to the public in 2010, this links-style, 18-hole championship course has always strived to put the fun back in golf. By keeping tee times typically spaced at 15 minute intervals Indian Springs Ranch allows the golfer to truly relax and take the time to enjoy the experience.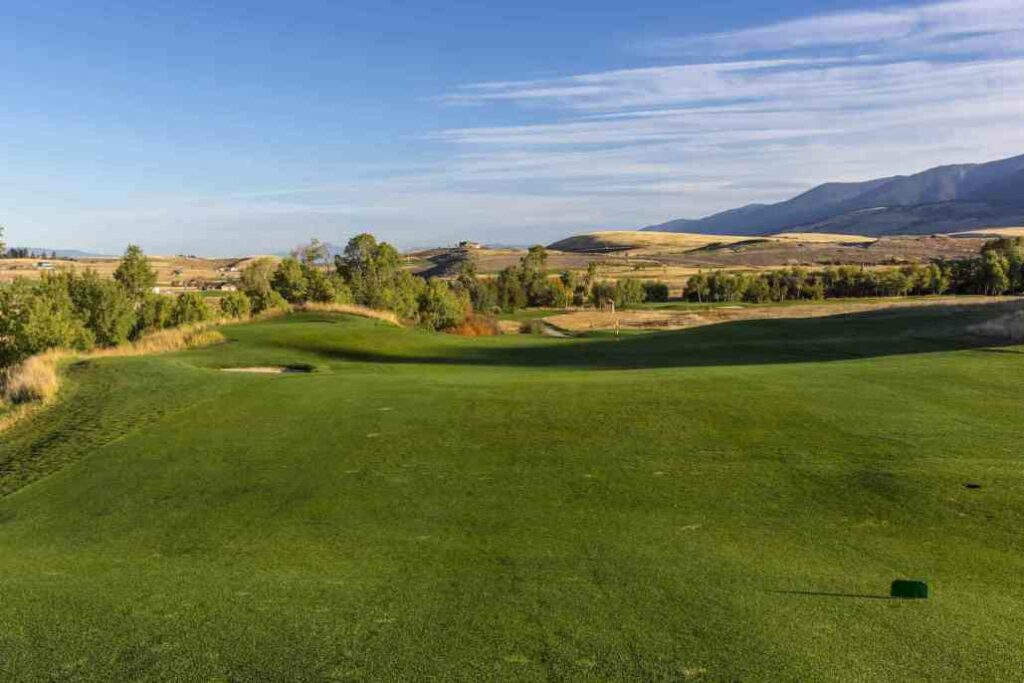 Crystal Lakes Golf Course
Located at the east of Fortine, this 18-hole par 72 course features a substantial replica of Stonehenge, has a true island green in the center of Crystal Lake, and includes an Air Museum on the grounds as well as a fish hatchery. This is a private course and can be reached via e-mail.
Meadow Creek Golf Course
Located behind Jerry's Saloon in Fortine, this par 3, 9-hole course has been locally owned and operated since 1966.