Grab the moon and the stars
All summer long we bask in endless daylight. Then, without warning, it feels like the sun sinks way too early.
While that enveloping darkness reminds us that winter is coming, there are still plenty of days ahead to enjoy the fresh feeling of fall.
This weekend, shake up your usual evening fire pit routine by turning your attention to the night sky.
One of the benefits of life away from it all on Lake Koocanusa is the serious depth of nighttime. Embrace the lack of light pollution by spending time gazing overhead. It will give you a whole new appreciation for the changing seasons at KV.
Four ways to take in the night sky
Before you light your nightly fire. Turn off your outdoor lights, look up and rest your head for a moment on your lawn chair. Marvel in all that you can see on a clear night as you spot your favourite constellation. Don't have one yet? Time to choose.


From your boat. Make an adventure of it. Pack up a few snacks and blankets and don't forget to turn on the boat lights as you head out.


By getting serious with the right tools. Chances are, you enjoy your summer toys – the boat, wakeboards and great bikes for tackling mountain trails. Consider getting a pair of binoculars or telescope to truly appreciate the vast universe from your lakeside spot. You can spend $100 or thousands, but we bet you'll enjoy your investment when you're star-gazing from your deck.


Get online support. There a number of websites (try in-the-sky.org) to help you map the night sky. Input your GPS coordinates and soon you'll be identifying planets and stars like a pro.   
What to look for
The giant planets Jupiter and Saturn dominate the night sky this month, while Mercury, Venus and Mars are pretty much hidden from view. Jupiter is best spotted as twilight fades. Look for the "teapot" shape of the constellation Sagittarius below the ringed planet of Saturn. Appropriate for lake viewing, the "fish hook" shape of Scorpius is just above the horizon.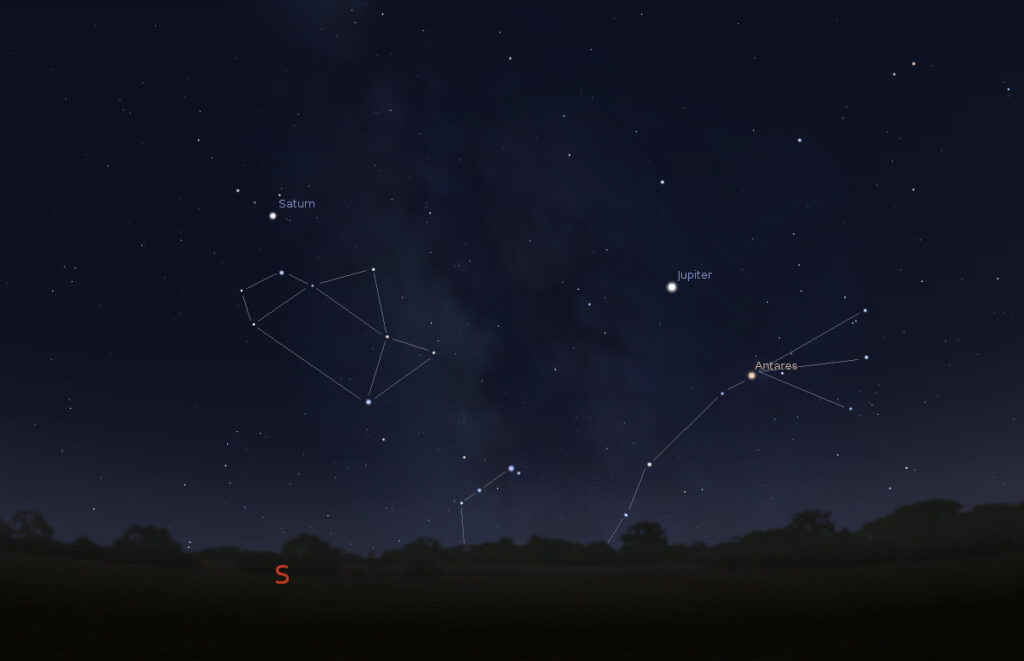 September Sky evening
Photo credit: Garry Beckstrom, Beckstrom Observatory