Paddling at the Koocanusa
Whoa — you say there are non-motorized water sports on Lake Koocanusa? Short answer: yes.
The vast shoreline and large body of water that make up "the Kooc" means that there is plenty of room for sporting activities of all sorts. From kayaking to stand-up paddle boarding to canoeing to Unicorn floating (true story – one was spotted in the middle of the lake), pick your passion and hit the lake.
Benefits of non-motorized water sports
There are numerous benefits to exercising beyond four walls in nature's gym starting with fresh air and a natural setting to lift your spirit. The tranquil quality of water reduces stress, anxiety and depression. Water sports are a great form of exercise because they work almost every part of your body, help you burn calories and build strength.
In general, water sports are both healthy and fun. They run the gamut from adrenalin-filled to relaxing to romantic.
Stand-up paddle boarding
The beginner-friendly sport of stand-up paddle (SUP) boarding is growing faster than almost any other water sport. It's easy to pick up with a number of health benefits including improved agility and balance. This whole-body workout strengthens the body and helps develops core stability.  Almost every muscle is used in paddle boarding and its low impact makes it a perfect family activity, great for all ages. 
Feeling a little more adventurous? Try incorporating your yoga practice on a SUP board — sure to improve your sense of balance!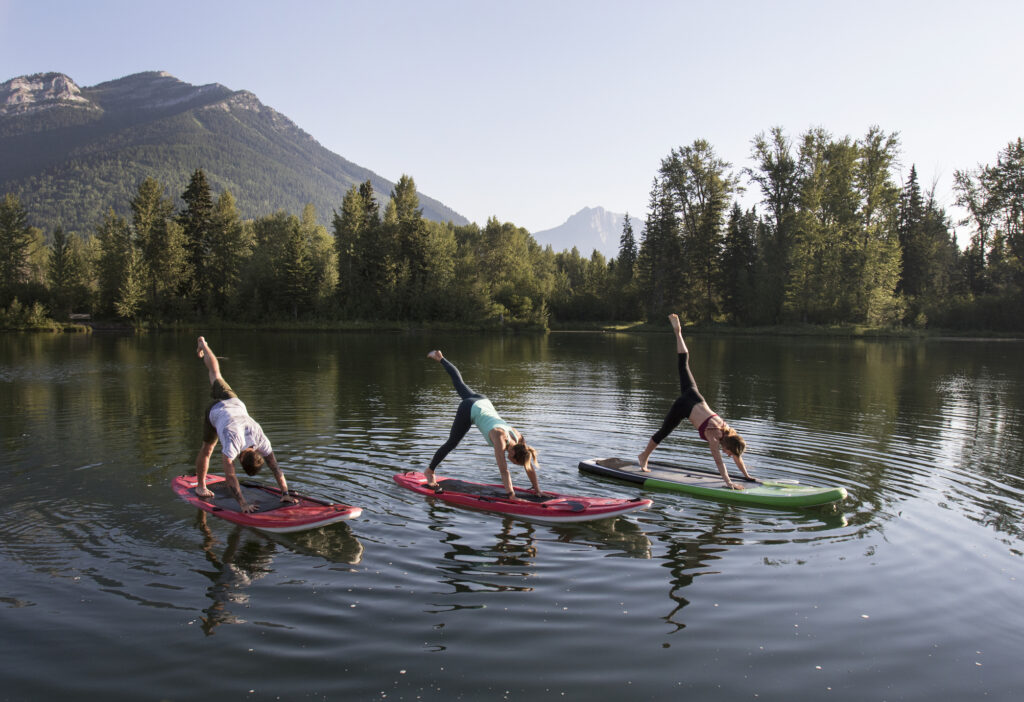 Want to try the sport? Connect with Mountain High Adventures who carry a range of paddle boards including the giant SUPsquatch for the whole family!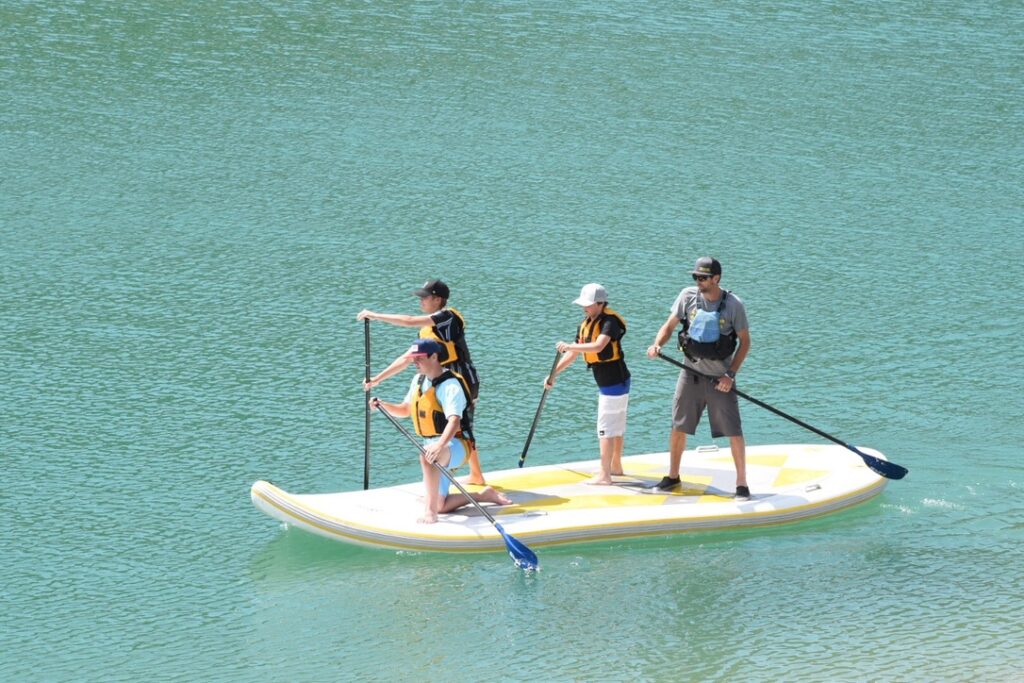 Kayaking
An ideal vessel for Lake Koocanusa, kayaks are an environmentally friendly way to explore bays and beaches. A great upper body workout, you'll be burning calories and toning your core while seeing nature up close and personal. Keep an eye out for bald eagles, osprey, loons and more wildlife as you glide quietly along the shore.
Rowing on the open water is the perfect low-impact activity to keep in shape, lose weight, cross train, or recover from injury. Although balance and equilibrium are required, kayaking is suitable for all ages, fitness levels and abilities.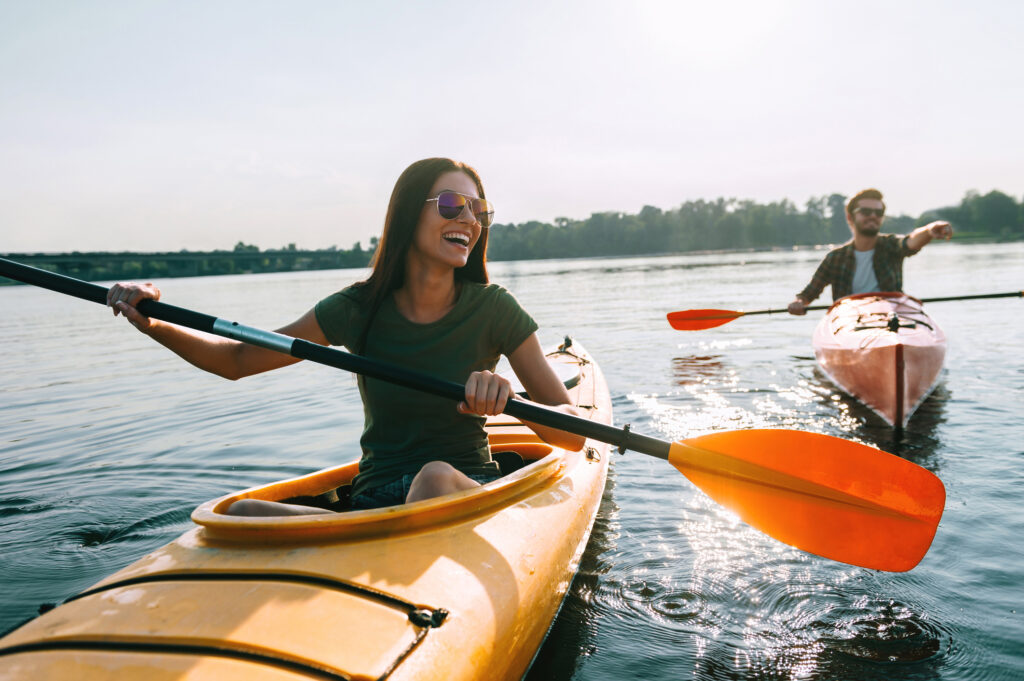 Canoeing
Both canoeing and kayaking are low-impact activities that can improve aerobic fitness, strength and flexibility.
Research shows that paddling is not only good for our physical health, but for our mental health as well. Being out on the water has a calming effect on the brain and can help lower stress levels.
With 145 km of beautiful turquoise water and shoreline, Lake Koocanusa features endless paddling opportunities. Explore the hoodoos, meander around the bay shoreline, or plan a beach picnic.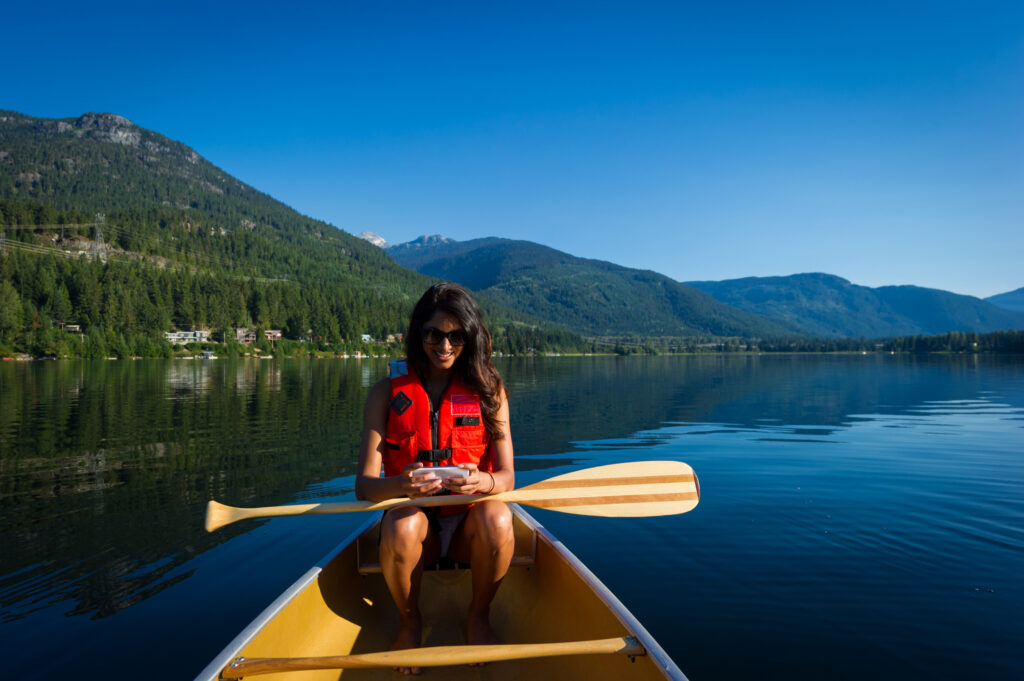 Paddle, float, swim
Water sports are a great form of exercise because these benefit both the body and mind. Take the plunge and enjoy the refreshing waters of Lake Koocanusa – whatever your passion SUP, kayak, canoe or unicorn float!